Regular price
Sale price
€24,95 EUR
Unit price
per
Sale
Sold out
Single Forest
Family Owned & Operated
Carbon Neutral
ZERO ADDITIVES: Pure Canadian Maple Syrup
Free & Easy Returns
100% Money Back Gurantee
Fast Shipping
Please note that yellow birch syrup is not available in Australie and Europe for now.
The birch (Yellow Birch), which is an emblem of Quebec, is a tree which is mainly found in mature, centuries-old Quebec forests. Unique and rare, birch syrup is a natural syrup produced from the sap harvested in spring. After a long, delicate process of sugar concentration with heat, it takes 160 liters of birch sap to produce a single liter of birch syrup. The total production is limited to 1,500 pounds a year.
Érablière Escuminac harvests from one of the most beautiful century-old yellow birch forests, traditionally called cherrywood in Québec. The conversion of sap to syrup is extremely delicate, but thankfully Martin Malenfant's formidable technical knowledge allowed him to develop a stable high-performing method, to bring this precious nectar to a boil without overflow or caramelization.  
This syrup is a pure nectar, and very fashionable in great chefs' kitchens, where birch syrup (yellow birch) stands out because of its unique and delicious taste and its versatility. It can be used instead of very aged balsamic vinegar. A perfect balance of acidity and sugar, it is embracing, rich and smooth. It can be used in any dish, from starter to dessert via the main course, side dishes, and even cocktails. With its strong flavour, a small quantity is enough to set off an intense explosion of flavours, which makes this an accessible yet rare luxury product.
Érablière Escuminac is certified carbon neutral, which means that it has eliminated net greenhouse gas emissions from its business activities. We take great pride in giving back to the generous nature we work with everyday by reducing our ecological footprint.
It is also said to have many properties and virtues as a result of its beneficial elements: vitamins, minerals, amino acids, proteins.
A NECTAR PRODUCED IN VERY SMALL QUANTITIES, WHICH MUST UNDOUBTEDLY HAVE BEEN THE BALSAMIC VINEGAR OF THE NATIVE AMERICANS IN THE PAST!
 Yellow birch syrup vs Birch syrup
Rare and sought out, there must be a distinction made between yellow birch syrup and birch syrup, that is a more common and much less complex syrup than the yellow birch syrup.
We will therefore speak of white birch and not yellow birch, two totally distinct trees. The confusion certainly has roots in the tree name, since in the forest both species are distinct. The yellow birch is a big tree which is mainly found in mature, centuries-old forests, while the white birch mainly grows in transitional forests. The bark of the white birch is white, as the name suggests, while that of the yellow birch is golden and changes over the years. On the young tree the bark is smooth, becoming rougher and darker as it ages.
Storage: 3 years in a cellar – 6 to 12 months once opened – Keep refrigerated after opening.
View full details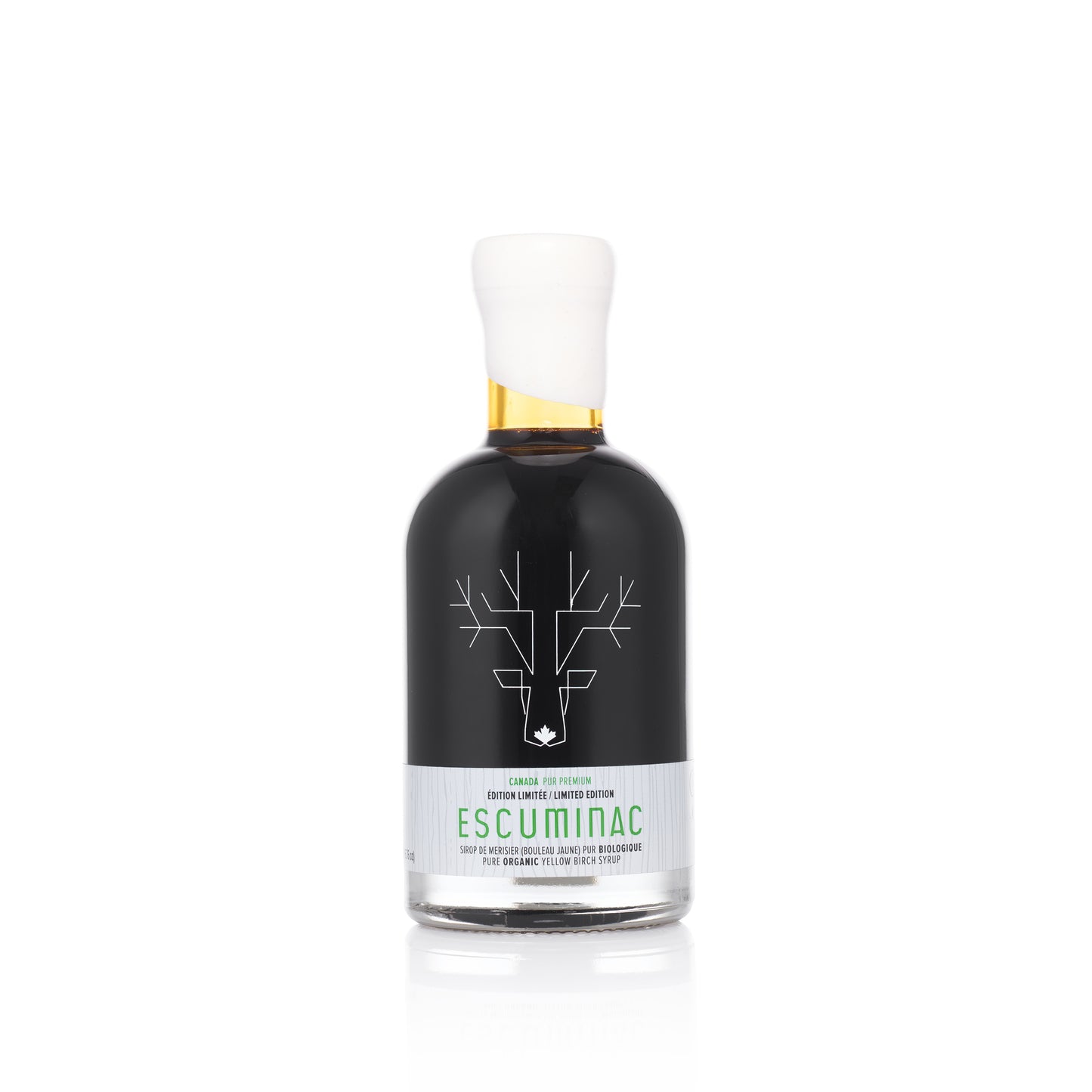 Collapsible content
SHIPPING

All orders ships within 24h-48h.
STORAGE

Keep refrigerated once open.
DISTINCTIONS AND CHARACTERISTICS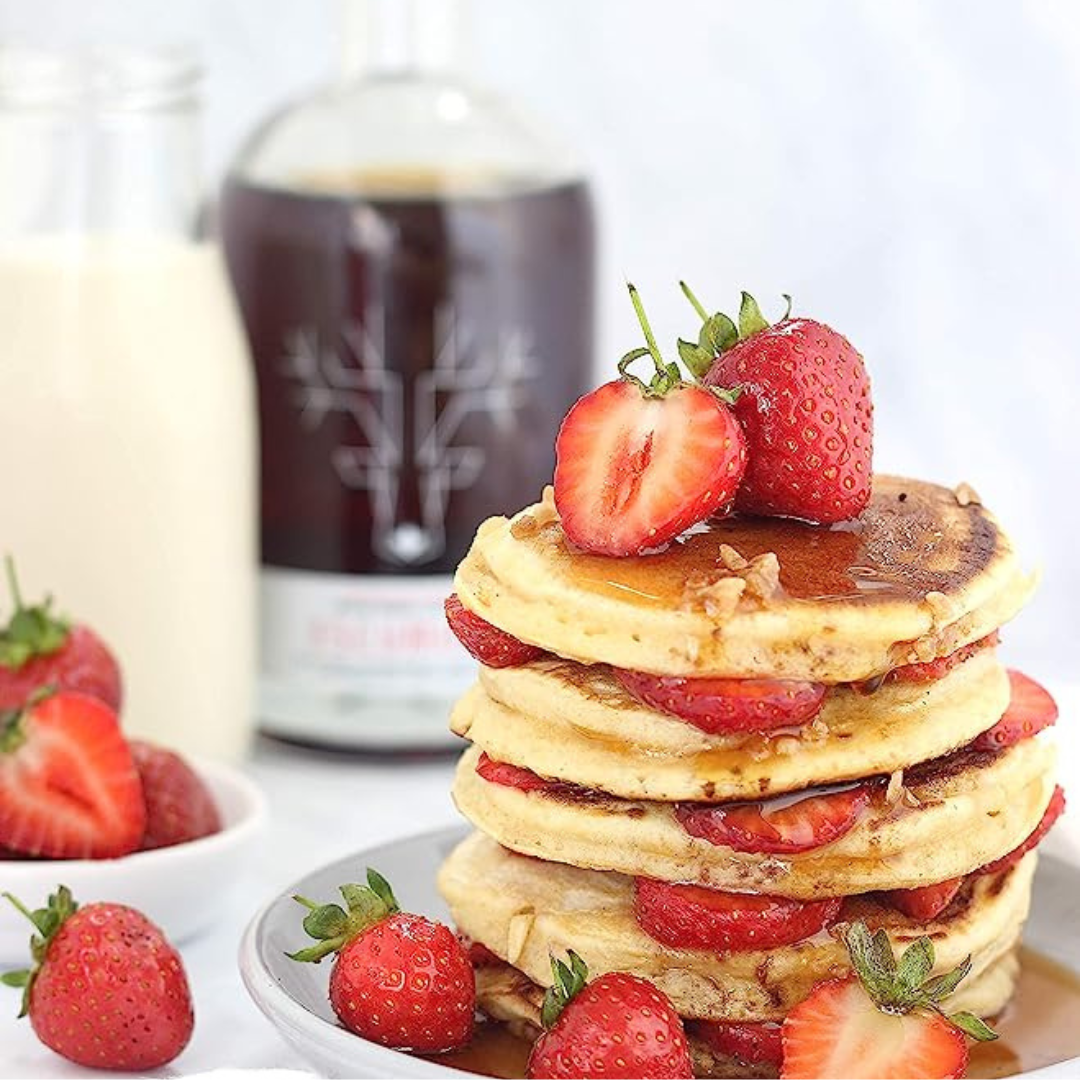 The ultimate gift, for anyone
An award winning organic maple syrup, in an elegant and modern glass bottle with a waxed seal.
Unblended and single forest, it is truly the finest taste of maple.
The lovely glass bottle displays the syrup to perfection and the taste is sure to impress.
Don't let this sweet gift opportunity pass you by!
Pancake Syrup
Maple Syrup
Escuminac Maple Syrup
No additives
No added sugar
Natural
Organic
Sometimes
Single Forest
No, for 97%+ of syrup
on the market
Carbon Neutral
Award Winning
Giftable
You may also like
Regular price

From €38,95 EUR

Regular price

Sale price

From €38,95 EUR

Unit price

per

Regular price

From €35,95 EUR

Regular price

Sale price

From €35,95 EUR

Unit price

per

Regular price

From €22,95 EUR

Regular price

Sale price

From €22,95 EUR

Unit price

per